Carefect Home Care Services in Toronto
---
Carefect Home Care Services in Toronto provides high-quality assisted living support to seniors who are wish to maintain their independent living.
As we age, it becomes more difficult for to live independently. While residential care and nursing homes facilities may provide a solution, they may not be the right one for everyone. Carefect Home Care Services gives your loved one another option that will allow them to continue and live at home.
Hourly and 24/7 Certified Caregivers
Carefect will arrange part-time and full-time live-in caregivers to attend to the needs of your loved ones all across Toronto and Greater Toronto Area (GTA). Whether someone close to you requires 24/7 in-home care or a simple daily companionship support, we can help. When working with Carefect, you can rest assured that all our caregivers are professionally certified and have several years of professional caregiving experience.
Personalized Caregiver Match
At Carefect, we employ caregivers from a variety of professional backgrounds. Some have years of experience supporting patients with physical disabilities while others have proven track of excellence in caring for seniors with mental conditions such as Dementia and Alzheimer's. To ensure that your loved one receives the best care possible, we carefully match patients with caregivers based on their personal support needs.
25-Years of Professional Caregiving Experience
Carefect staff has over 25-years of experience delivering high-quality home health care in Toronto. The professional caregivers we match with each client are highly skilled at providing friendly assisted living support that takes place in the comfort of your loved one own home. This approach helps people close to you live a full and independent life despite any personal care requirements. Carefect can also adjust the provided services as client support requirements change over time – with no additional cost.
Multiple Care Locations
As supported living specialists, Carefect can provide live-in care or hourly care visits to seniors all across Toronto, major regions of the Greater Toronto Area (GTA) and beyond.
To maintain the same level of service and support the local community, we offer our home care services across all of Toronto's main residential areas. To find out the closest home care professional near you, reach out to one of our team member today.
Canadian Owned Home Caregiver Services (Not a Franchise)
In recent years the home care industry saw many local Canadian caregiver companies merge or acquired by large international corporations. This had a direct impact on the quality of service offered to client along with employment conditions to caregivers.
Carefect is not operating as a franchise and we never put profits considerations before clients. All our locations share the same resources and often collaborate so we can stay true to our vision to put our clients, their loved ones and our caregiver first.
The Perfect Home
Care Solutions for
Your Loved Ones
---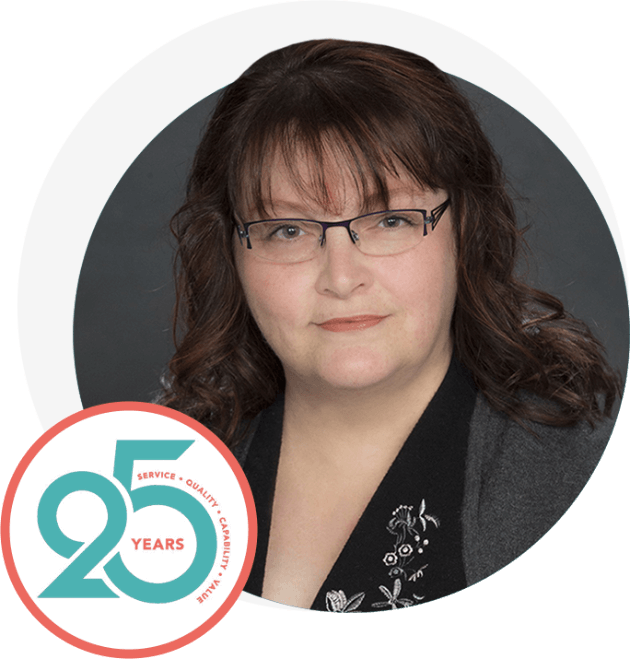 About the President
---
Alexandra Ben-Tzur has been the president of Carefect Home Care Services since July 2010.
She is a seasoned health care leader with over 25 years of experience in multiple home care companies both in the public (non-for-profit) and private sectors. Alexandra have been employed by some of north America largest and well-known home health care organizations and managed branches in multiple areas (e.g. Toronto, Brampton, North York) which provided both nursing and personal support workers services.
Alexandra is a collaborative leader who believes in teamwork and building relationships to encourage personal growth and development. She is recognized for having an open, collaborative and results-oriented approach.
About Us
---
Truth to be told, because our staff been caring for seniors in Toronto for over 25-years, there is a good chance you have met or seen one of Carefect's staff or caregivers in action already. Every day, we are out and about in Toronto providing services such as companionship and independent living support to people with in varying conditions that has minor (or more complex) care needs. We are proud to say that over 70% of our business is due to referrals from families who know our work. We see this as a testimony to the fact that we provide care that genuinely helps people to live their lives to the fullest.
Passionate about care, we can provide live-in or "around-the-clock" care service that helps people with even complex care needs to maintain a sense of independence. Alternatively, we can have a daily caregiver visits that help people with fewer care needs to help and take care of everyday tasks like cooking and cleaning.
At Carefect, we know that home care services should always be customized to different clients. That is the reason we make an ongoing commitment to review and set an exceptional level of standards as part of our caregiver training.
Our mission is to maintain a highly skilled and trusted caregiver workforce, that you can turn to whenever your loved one requires temporary or a more permanent supportive living assistance.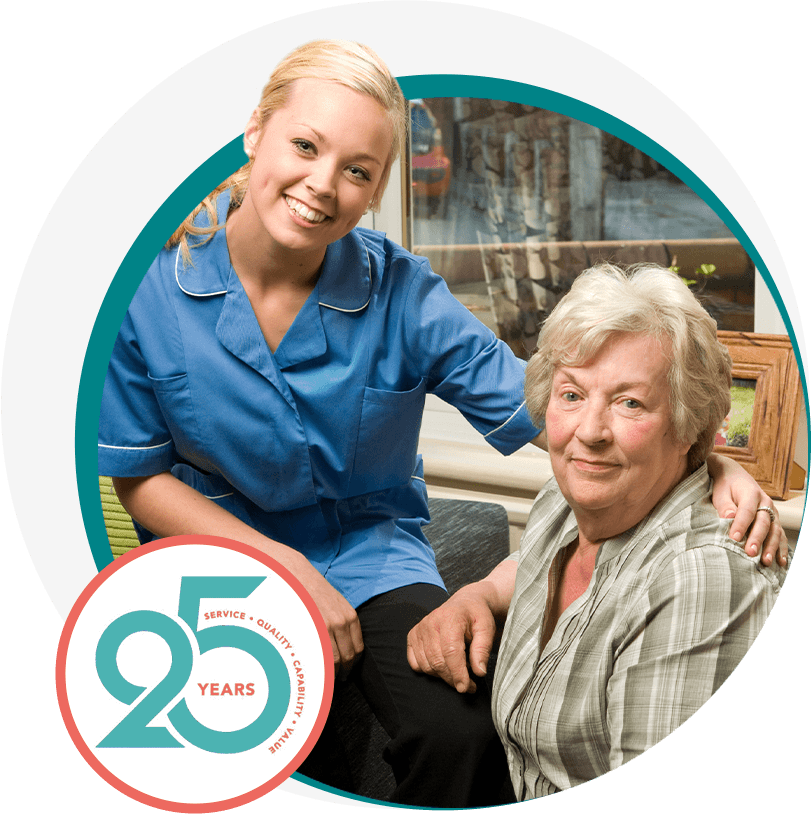 Carefect Home Healthcare Services
---
Whether you are looking for an in-home caregiver to assist with daily living activities for an aging parent, companionship for seniors or someone who has just had surgery and is being released from the hospital, Carefect is here for you.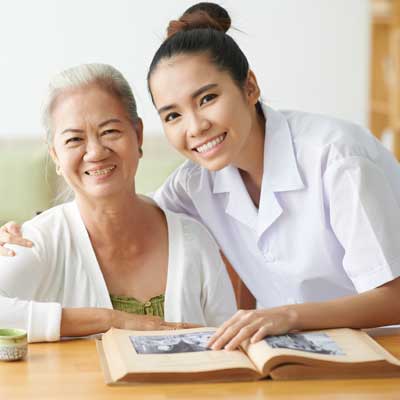 Read More
Caring for Alzheimer's and dementia patients can be incredibly challenging. However, in-home care can be hugely beneficial for those who are impacted by these conditions. Moving a person suffering from Alzheimer's or dementia into a care home can result in an overall negative experience that includes intense fear and disabling ongoing confusion. As part of our service, Carefect will create a care plan for clients that suffer from early and late-stage dementia and that can be implemented in their familiar surroundings.
In every case, we only match Alzheimer's and dementia clients with caregivers who have experience caring for people with such conditions. Our caregivers can also help families and friends of clients who suffer from dementia learn how to cope with the common symptoms and changed behavior.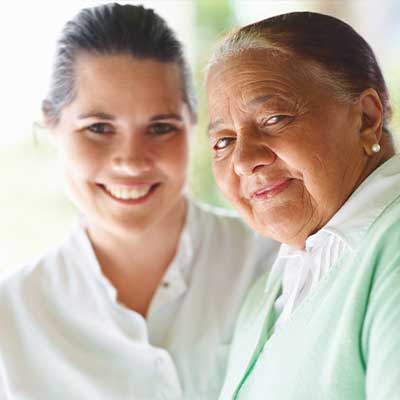 Read More
A live-in Carefect caregiver can help your loved ones retain their independence as they age or start on a journey to recovery after a life-changing event. However, it is also possible to benefit from 24/7 care support without sharing your home with one of our caregivers.
Depending on the client's care requirements, we can provide live-in care services or teams of caregivers that will work 24/7 and can be replaced as and when required.
In every case, your loved ones benefit from a 24/7 compassionate care provided by familiar faces who are adept at ensuring their physical and emotional welfare.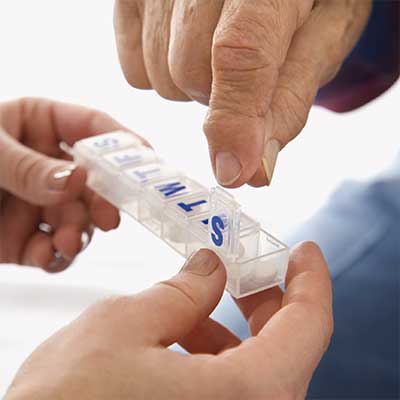 Read More
A study showed that at least 50% of seniors and people with long-term care needs forget to take their medication each month. This can result in failing health and occasionally the need for medical intervention.
While Carefect caregivers cannot physically administer medication, we can schedule care visits to ensure that your loved ones don't forget to take prescribed medications.
Our caregivers can also ensure that your loved ones take the right pills at the right time of the day to avoid accidental overdose of medications.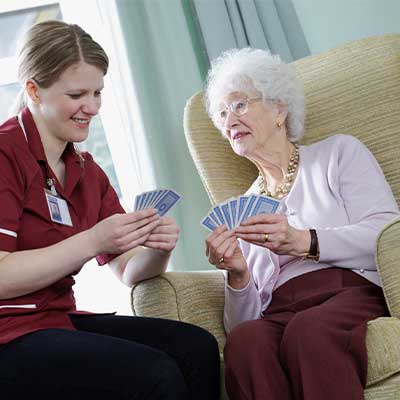 Read More
A Canadian study found that 80% of elderly people (80 years old or more) are feeling lonely in 80% of the time. The study also found that this can be attributes to an increase in depression cases and social isolation.
To combat loneliness and social isolation, Carefect can arrange companionship care visits that focuses on building a meaningful rapport with seniors and limited mobility people.
Typical companionship care visits see our caregivers read from a book or magazine, play card or board games, hold a conversation on hobbies or recent events and arrange outdoor walks. Carefect can also arrange for a companion caregiver to accompany a loved one when traveling or visiting friends and family.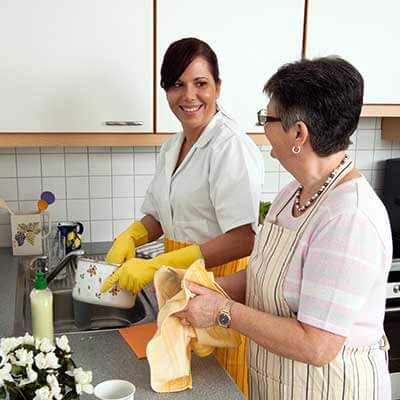 Read More
Seniors in Toronto and people with limited mobility often struggle to take care of all the small activities and errands such as cleaning, cooking, housework and grocery shopping. This can be very frustrating especially if they used to do these errands without any help just few years ago.
At Carefect, we can arrange daily and periodic care visits where our caregivers assist with everything from light housework to daily meal preparation. Our Toronto personal support workers can even run errands with or on behalf of our clients. This is particularly beneficial for those who are housebound.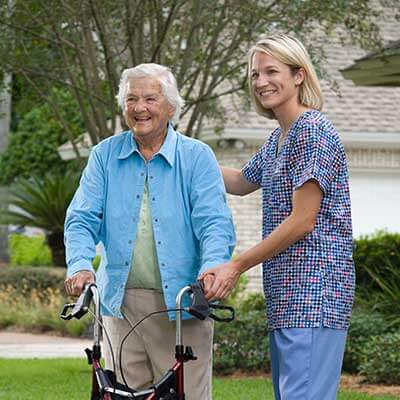 Read More
As our love done get older, physical disabilities and conditions like arthritis can leave them unable to properly groom and bathe themselves which could lead to frustration and depression. Carefect caregivers can provide the personal care assistance your loved one needs to continue living independently and comfortably.
Our teams of compassionate and experienced caregivers can assist with everything from daily bathing to getting dressed in the morning. In every case, the level of personal care we provide is also fully adaptable to each of our patients. All you need to do us let us know how we can be of assistance.
Frequently Asked Questions
---
How Does Carefect Hire Caregivers?
The safety of your loved ones is of at most importance to us. For that reason, we perform rigorous background checks and verifications on every caregiver we hire. These checks include criminal record checks, verification of past work references, and verification of professional caregiver qualifications.
How Can I Arrange a Live-In Home Caregiver?
In order for Carefect to provide a full-time live-in care, you will need to allocate a private room that can accommodate one of our caregivers. We will also need to schedule a care assessment to determine the full needs of the client in order to find and match the most suitable caregiver.
Is Carefect Support Available Only to Seniors?
Carefect predominantly helps local seniors in Toronto. However, our care services are available to people of all ages who require personal living assistance such as people with physical disabilities and limited mobility.
What Kind of Care Services Do Carefect Caregivers Provide?
We expect that while every Carefect customer has very different care needs and requirements, our caregivers will be able to help with everything from dressing, bathing, mobility support to everyday housework.
What Does 24/7 Live-In Care Service Includes?
From our experience, clients who require a live-in caregiver often vary greatly and have a diverse range of care requirements. As a result, no two care plans are the same. Typically, our caregivers provide 8 to 10 hours of support throughout the day and are on-call, in case of emergencies, throughout the evening and night.
How Long Will it Take to Set Up a Carefect Care Plan?
At Carefect, we always attempt to match customers with suitable caregivers as soon as possible. However, to identify the right caregiver, we can only do this after conducting a thorough client and an in-home assessment. This will allow us to ensure that your loved one will receive the best care possible.