Every year, millions of people get on a cruise ship and float through the ocean to a fun-filled vacation in tropical paradise. Cruises are becoming more and more popular as the weather warms up and people are keen on taking vacations once again. As the ice from winter thaws, and summer vacation is right around the corner, many families are gearing up to take a vacation. If your family is included in this bunch, and you are thinking of taking your elderly relatives, then you may need to do a little extra planning. Taking elderly relatives on vacations can be super rewarding. In today's busy world, cruises are a wonderful way to bring an entire extended family together. However, depending on your relative's age, health concerns, and lifestyle, you may need to adjust your overall plans whenever deciding on your trip. Here are a few tips to keep in mind when planning your cruise so that your entire family will be able to relax and have fun on the cruise.
Planning Your Trip
Duration: The duration of a cruise is vital to its success. Even if the cruise ship is traveling to a tropical paradise, no one wants to be gone from home for weeks on end. Choose the duration of the cruise based on your family's needs and desires. If your family is home bodies who have never gone on a cruise, then a short 3-4 day cruise is probably the best fit for you. However, if your family is cruise savants, then choosing a longer cruise is a great idea.
Size of Ship: Not many people take into account the size of the cruise ship when planning a trip. However, if you are bringing along memory impaired elderly relatives, then you may want to look into smaller ships. These small sized ships will allow your memory impaired relatives to have to remember less and will prevent them getting lost often.
Booking: Whenever you decide to go on a cruise, it is essential that you book it ASAP. Cruise ships fill up fast, so if you want your family to be able to sleep in adjacent rooms, then it is necessary to book as far in advance as you possibly can. Adjoining rooms may also be available on some ships. These rooms go fast, but if you are caring for an elderly relative on the ship, then they could make your trip a lot easier.
Room Location: If you are able to choose your rooms and their location, then always choose rooms that are easy to find. For example, do not choose rooms that are in the middle of a long hallway of rooms, instead choose ones that are at the end of a hallway, or near a landmark in the boat. These rooms will be easier for all of your family members to find, including relatives that are memory impaired.
Take all Medications and Prescriptions: If someone in your family takes medications, then make sure that you pack enough to make it through the trip, and even a few extra of each medication. It is also wise to pack copies of the original prescriptions in case you run out of medication, lose the medications, or get sick. Cruise ships have doctors aboard that can treat any type of illness, and if your loved ones fall ill on the ship, they will need to know the prescriptions that your loved one takes.
Getting on the Boat
Priority Boarding: Priority boarding is a must for families with elderly loved ones. This type of boarding allows you and your family members to board and exit the ship with the first group of passengers. Cruise ship staff members will be available during priority boarding times to help people on and off the boat who have difficulties walking and navigating the ship.
Public Areas: Once on board the ship, public and private areas will be marked. Public areas are usually very easy to travel in, and have large hallways and open areas. If your loved one is in a wheelchair, then public areas should not be problematic for them. However, it is a good idea to check with the cruise line about wheelchair accessible rooms and public areas once you board the ship.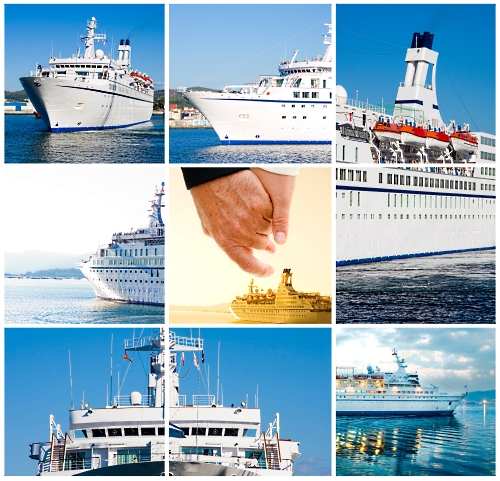 How to Make the Most of Your Trip
Identification: Once you are well into your trip, it is essential that your family and elderly loved ones always have identification cards, bracelets or papers with them, especially your elderly loved ones. If your loved one is memory impaired or has issues moving freely, then they should always have a form of ID with them. This ID will be of great help to them if they get lost, cannot find their room, or need help while on the ship. You should also have a photo of your loved ones on your phone or in your wallet. If your loved one does go missing on the boat, then you can use the photo to ask people for help while searching for them.
Clothing: Some families choose to wear similar colored clothing while on a cruise ship. This allows for easy identification in large groups, and can help elderly loved ones find other family members on the ship. If your family does not all want to dress alike, then you can dress your loved one in bright colors in order to keep an eye on them throughout the day.
Activities: Cruise ships all have a myriad of activities that fit the needs and desires of each age group. Choose activities wisely, and always think about your elderly loved one when making the final decisions. If you need to stay with your elderly loved one at all times, then choose activities that are hands on and are directed towards older demographics so that your loved one will feel comfortable.
Going on a cruise can be an exciting and fun-filled vacation. If you are planning a trip with your elderly loved one, then a cruise is a great idea. Cruises allow you to keep an eye on your loved one, and still participate in different activities in order to get some space from each other. Plus, they often are able to adapt to any type of health concerns and needs that your loved one might have. If you are planning a cruise, then follow those simple tips, and your family will have tons of fun.
Check the following articles in our home care blog: