Medical identification jewelry and tags are essential for elderly people who live alone. In today's high tech, connected world, it is vital that elderly people who live alone will also have a connection to the outside world. Medical alert and identification systems allow seniors to be instantly connected with emergency services if something bad occurs. Medical identification jewelry and tags are designed to be worn all of the time just in case an emergency happens and the senior cannot reach the phone. When they were first brought onto the market, medical alert systems simply were a way for seniors to be connected to 911 operators, but they have changed dramatically in the past years. Now, various medical alert systems can connect seniors to 911 operators, detect break-ins and even detect if a fire is occurring in the home. If one of your elderly loved ones is living alone and could benefit from a medical alert system, then keep reading to determine the types of alert systems on the market today and which type is best for them. Depending on your location, you may have various companies that you can choose from, but they should all have similar types of alert systems. This article will cover the various types of alert systems in order to help you make an educated decision.
Types of Medical Alert Systems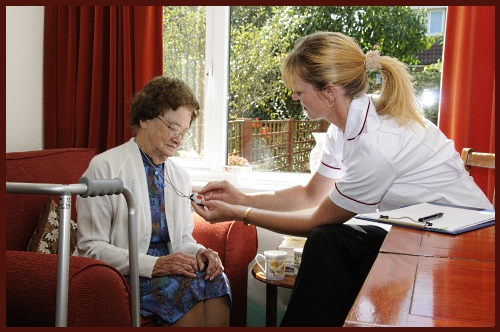 Jewelry
Medical alert systems have been transformed into both bracelets and necklaces. These types of medical alert systems often have a single button, and allow your senior to push the button if they are in trouble. Depending on the type of medical alert system you buy, the button may either automatically send a signal to your local authorities or an emergency contact or it may have a speaker on it that will allow your senior to speak directly with an emergency operator or an emergency contact. The jewelry medical alert systems come in either bracelets or necklaces and are meant to be worn at all times.
Tags
Medical alert tags are small devices that can be pinned directly to your senior's shirt or pants. They also have one large button that can be pressed in times of need. As with jewelry based alert systems, the button can either automatically send emergency personnel to your relative's home or it can allow them to communicate directly with emergency personnel. Tags are perfect for elderly men, since most men will not be receptive to wearing medical alert systems that have the appearance of jewelry.
Things to Look for When Buying a Medical Alert System
While all medical alert systems will work in similar fashion, they are all very different. Depending on where you live, you may have many or very little choices in which medical alert system company you utilize. When you start searching for different companies, there are a few things that you need to look for. First, always ask about the reception range of the medical alert system. Some tags and jewelry alert systems only have a few hundred feet of reception range. This means that they only work if they are in the range of their main base. Often, the bases for medical alert systems will be positioned next to a phone. For elderly people who live in large houses, they may need more than one base in order for their medical alert system to work throughout their entire house. Secondly, it is important to ask about battery life of the alert system. Some tags and jewelry systems must be recharged on a weekly or monthly basis, and others will work for years before their batteries die. Understand how the batteries work in the medical alert system that you buy so that you can ensure that it will work properly all of the time. Thirdly, it is vital to look at the cost of the medical alert system. Most medical alert systems come with a monthly price that gives your senior complete access to the alert system's benefits. If you stop paying the monthly fee, then their medical alert system will stop working. Medical alert systems with additional features, such as break in detection and fire detection may cost more than medical alert systems that simply connect your senior with emergency personnel. The final decision should be between you and your elderly relative in order to determine what features and what type of medical alert system they may need. Finally, you should also look for the usability of the medical alert system. If your elderly relative cannot figure out the logistics of the medical alert system, then they may not use it, or they may not be able to use it whenever something bad does happen. Look for alert systems with large, readable buttons that your loved ones can read easily.
Alternative Options
If you do not want or cannot pay the monthly fee for a medical alert system, then many people are beginning to utilize cell phones instead of alert systems. Cell phones are often available on a minute to minute basis, and can be utilized as medical alert systems if they are constantly kept near or on your elderly relative. Some families give a prepaid cell phone to their elderly loved ones in order to ensure that they will always have the ability to call 911 if necessary.
No one wants to think about their elderly relatives falling or getting in trouble, but in reality, as people age, they have a higher risk for falls and medical emergencies. If your loved ones live alone, then they may benefit from a medical alert system. A simple medical alert system cannot prevent accidents from occurring in your elderly loved one's home, but it can connect them with the help they desire when an accident occurs. If you are looking for the best medical alert system for your loved one, then look for companies in your local area and research their benefits. Always talk to your elderly relative as well. They should have a say in which alert system they get so that they will be motivated to use it and wear the alert system while at home.